Camaro "SS" 35TH Anniversary Edition Brickyard 400 Limited Edition Poster.
Now available is this great new poster that contains photos of the 2002 35th Anniversary Camaro "SS"'s that were used during the 2001 Brickyard 400 race.
This is a limited edition print and only 400 of these will be available, all are numbered and signed by the artist. These "insider photos" are some great shots of the cars as they were trucked in to the Indianapolis Motor Speedway for use and while on the track. Poster size is 20" x 24".
Own this exclusive Camaro print today. This is a signed and numbered print and the all of the prints will be sold as a "first come first serve basis". "No reserved numbers" will be accepted. "No requests" please.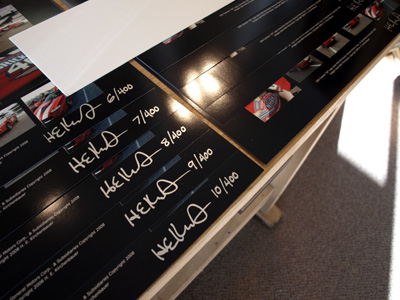 Own a nice piece of limited Camaro memorabilia today. Pricing includes the following: